I always had a fascination with surfing, but never saw anyone like me in a lineup.
Therefore, I admired it from the shoreline, feeling inspired about the days when I would start catching waves. In November 2015, I was pushed into my first wave on the pristine, crystal clear waters of Waikiki after an impromptu lesson. Immediately, I was hooked. I've spent the last three years trying to get into the water as much as possible, and along the way have fallen in love with this beautiful sport called surfing.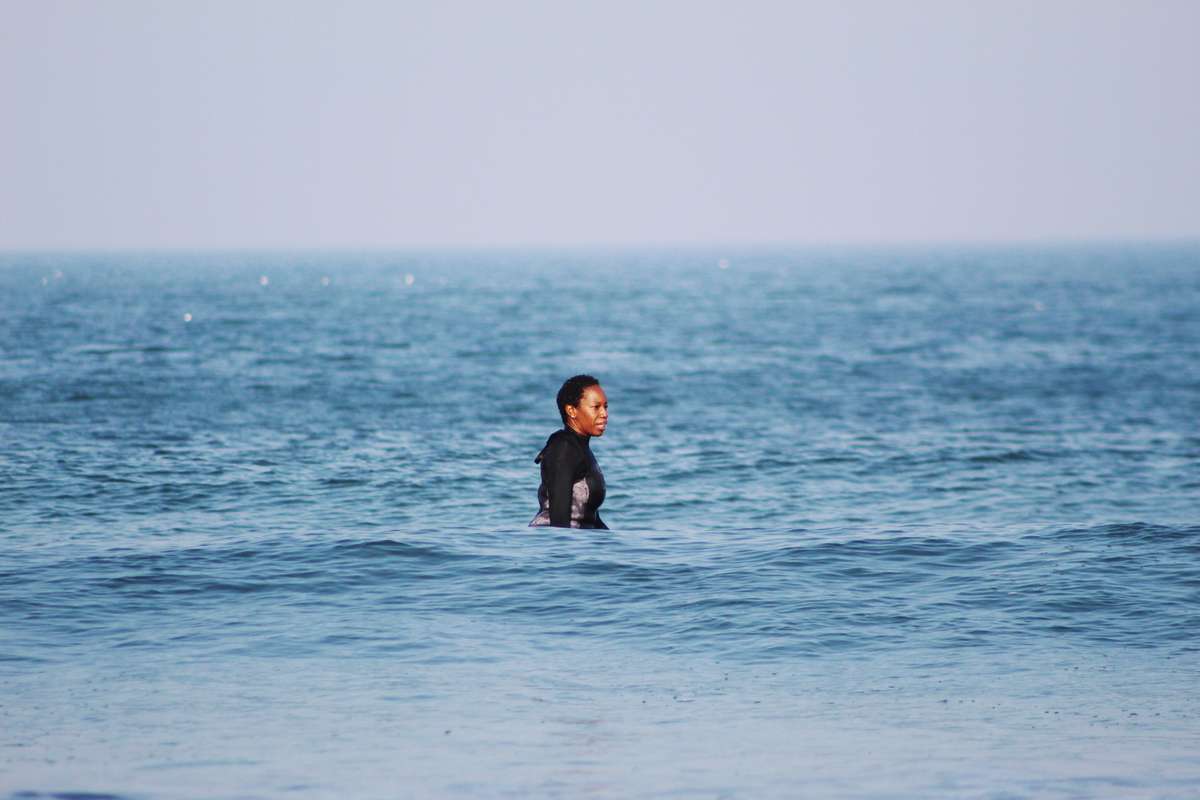 After spending 11 months in Hawaii last year, I popped back to the opposite coast: DC. However, I found something was missing, surfing. I longed for ocean air, salty waves, the rush of a wave on a daily basis. Fortunately, I gained the opportunity to become a hostel manager at
Pacific Tradewinds Hostel
in funky, electric SF in May 2018. I was over the moon! I would be living in CA, doing my dream job, with access to the coast. Ironically, I didn't get back into the water until September. As a nudge of encouragement, my birthday present to myself was a new board, booties and a wetsuit from Decathlon (
Olaian is their in-house brand dedicated to all things surf
).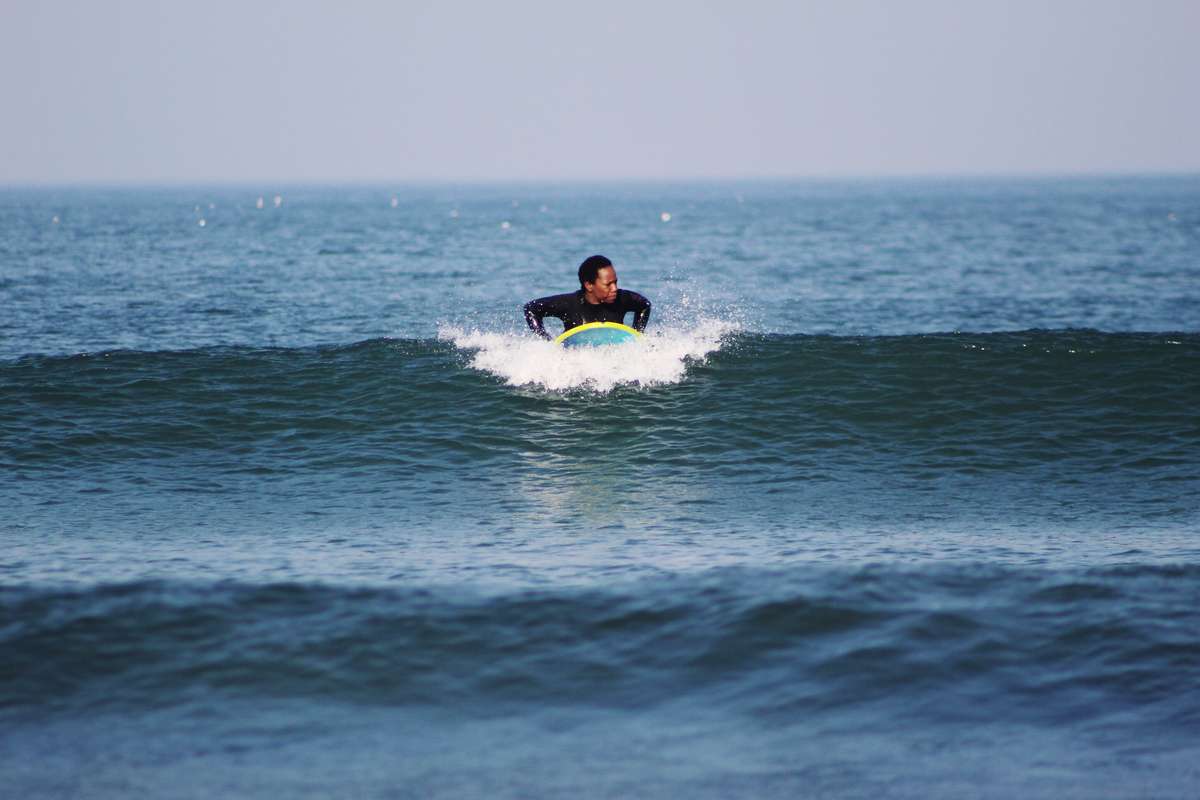 I was determined to get stronger and improve my skills in a sport that not only gives me so much stoke, but is also a spiritual experience for me. I remember that cold September morning at Linda Mar Beach. As soon as the water hit my feet, I knew I was home. After wiping out for about an hour, I caught my first and only wave that session. I felt so at peace, but my heart and soul told me I could dig deeper. I set a goal for myself to compete on an amateur level by the time I turned 40. As soon as I put my dream out into the universe, things started moving really fast. I met small business owner Alexis of
Case For Making
, who told me about
Traveler Surf & Swim Club in Pacifica
. There, I store my board and have access to a super swanky surfer's oasis, equipped with hot showers, heated furniture and a sauna.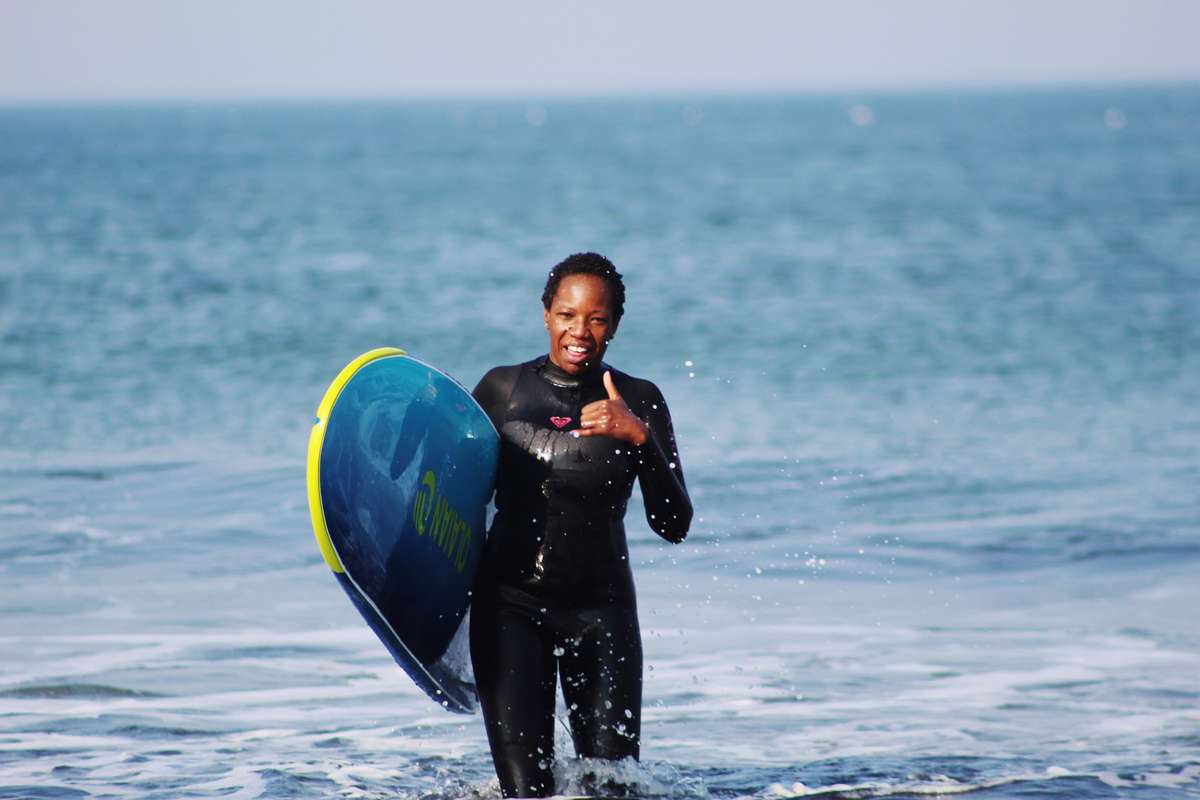 Becoming a member of Traveler drastically opened up my surfing community in San Francisco. It provides a safe and encouraging space as I strive to improve. There's something about emerging from the cold waters of the Pacific to be greeted with genuine smiles, hot coffee and constant words of encouragement. Traveler connected me to Ms. Rhonda Harper, founder of
Black Girls Surf,
whom I met after an amazing
Diversity in Surf panel
co-hosted by Traveler. I was determined to talk to Rhonda after the panel because I wanted her to train me to reach my goals in competing. Here we are now, my journey has begun. I train 3x a week, my devotion unyielding. Without a car in SF, I rise at 5 AM, trekking on BART to Daly City, then catching the bus to the Pacifica coastline so I can unite with the waves.
I know this road is in no way going to be easy, but it will be worth every single ounce of energy, tears and early morning cold sessions. I am beyond blessed and grateful to have
Khadjou Sambe
(currently training for the 2020 Summer Olympics) and Rhonda from Black Girls Surf as my amazing family of diverse, female wave-riders who hold down Traveler. This of course, is happening with the necessary and reliable gear I've selected from Decathlon, who is helping me transform this personal dream into a life-changing reality. No matter your background or where you're at in life, it's never too late to try another challenge and set new goals. As a thirty-something without much representation in the sport, I hope to inspire others. And with my new gear I know I can rely on, this surfer girl is ocean-bound. Let's ride!
Shelby's Starter Pack
(For the curious and beginning surfer, especially in cold waters)
Shelby's Competition Gear
(Currently using for training)