Sylvain Broche is a top-class athlete who has scored some fine wins during the course of his career. A French pro champion in 2007, he was also a world championship bronze medalist in 2002 and 2013. Welcoming us to the Domyos Club in Marcq en Baroeul in northern France, he gives us an insight into kickboxing and passes on his experience: "Aside from advice on technique and basic physical prep, I'd like to share some boxing tips with you that I hope will help step up your learning and make real progress."
Stay Relaxed
Beginners are prone to contract their muscles. It makes them feel strong and ready. The fact is, it does the opposite and can act as a real brake on your explosiveness. It's very important to relax your muscles because it will help you improve your reaction time. You need to change your state of mind, loosen up and take the pressure off yourself. Power comes with speed and you'll quickly see a massive improvement.
Develop the Right Technique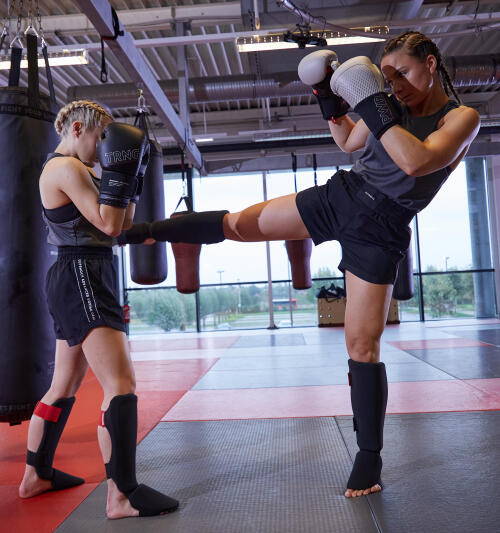 Technique is all about being agile and flexible. It makes it easier for you to work on the technical side of things (though when it comes to agility and flexibility, we're all different). I'm not especially light on my feet but thanks to my technical skills, I've been able to win in rings and on tatamis around the world. There's no point in trying to copy the technical wizardry of a sparring partner or pro boxer if you're not in a position to go out and do those things quickly and instinctively when you're fighting. Your coach will teach you the technical basics you need to know and will help you to get them right, but it's up to you to find out and decide what works for you. And there is nothing to stop you from building on a solid foundation by learning new tricks.
Improve Your Reaction Times
Something you can do in this respect is performing a specific action with as little hesitation as possible in response to a simple external stimuli such as a "beep" at regular intervals or at a coach's command. This exercise is all about being able to take opportunities or counter-attack when the chance comes.
Test Yourself in Different Situations
In working in different situations and with different targets, you can control the amount of effort you expend and improve in different areas. You can work solely on your technique or sparring with a partner, or your power in hitting pads, or your punching accuracy with moving targets (such as punch paddles and bear paw gloves), or your fitness with a punching bag. You can also combine different aspects by working on your speed in hitting targets and your power at the bag, all while keeping your main objective in mind.
Be Aware of Everything Around You
While it's obviously important to focus your attention on your opponent, you also need to be aware of everything that's going on around you. I'm talking here about where you're fighting, be it a tatami or a ring, and its boundaries, so that you don't feel hemmed in. There's also the clock, because you need to pace yourself or hit the accelerator when the time comes, not to mention the referee's instructions and the advice of your entourage, coach and seconds, drawing on their experience and their opinions. As for everything else, just block it out. When you're a boxer, and an athlete in general, there are already plenty of things you need to take into account without being distracted by non-essentials.