So, how do you prepare a good picnic?
As promised, a picnic doesn't mean discomfort here at Quechua! If you want to picnic in comfort, be sure to take with you:
- a shelter, to protect yourself from sun and wind
- a plaid or large blanket to sit on
- outdoor games to have a good time (ball, boules set...)
- a hat or visor or cap, whatever you prefer, but protect yourself from the sun!
- sunscreen, to avoid returning to the office red as a lobster the next day
Now that you have something to sit on and have fun, here's what you'll need to enjoy your meal:
- lunch box, to take your meal with you
- cutlery, so you don't get your fingers dirty
- towels for a nice wash (reusable, ideally)
- a cooler or cooler backpack
- ice packs
- salt and pepper
- a rubbish bag to collect your waste in
- boxes to bring back your leftovers
- a Swiss army knife
- a corkscrew
- a can opener
- a bottle opener
So, is it better to take a cool box or cooler backpack?
It's easy - if you're going for a walk and, if so, go for a cooler backpack; or you don't intend to walk to reach your picnic spot, in which case, go for a basic cooler!

What kind of cooler?
- flexible coolers: you can get them in different sizes, ranging from 10 to 35 liters. They have the advantage of being lighter, easier to carry and store, and offer excellent thermal insulation. Our soft coolers keep things cold for between 5 and 9 hours in general, and our inflatable coolers keep your food fresh for up to 17 hours, all without ice packs!

- rigid coolers are generally more widely used in camping, since they're larger and more bulky. However, they have the advantage of being able to be used as a seat or small table as well as keeping things cold for between 13 and 14 hours, depending on the model.
Not sure what to eat?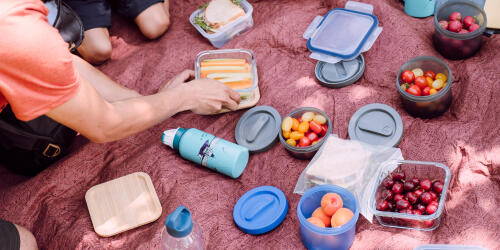 As a snack, consider taking foods that are easy to eat:
- Vegetables to nibble (olives, cherry tomatoes, radishes, baby carrots), maybe with a little hummus
- Chips.
- Something to make small sandwiches (spreads, cream cheese, meat...)
- Sausage slices
The main course:
It all depends on how many of you there are and whether you'll be walking or not. However, be sure to bring food suitable for everyone's tastes, with a vegetarian option for those who don't eat meat or fish.
The classics are generally:
- All kinds of savory cakes (sun-dried vegetables, ham & olives...)
- Quiches or tarts (quiche lorraine, salmon & spinach, leek...)
- Large salads, generally of rice or pasta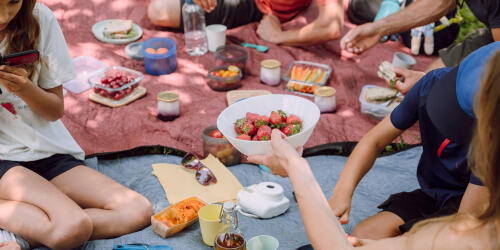 Dessert & drinks:
For the dessert, fresh fruit salads are usually the stars of picnics; but for real foodies, pastries will be most welcome! Cookies or cakes will do the job nicely!
Finally, be sure to bring around 1/2 a liter of water (flasks, water bottles or water bags) per person for the meal. But if you're hiking, make sure to take more! For children, you can bring fruit juice.


No idea where to go for a picnic?
Here are some tips on places you could go for a picnic with family, friends or with your partner.
You can go and recharge your batteries at the water's edge, whether it's next to a lake, a stream or the sea. It's the ideal solution in case of strong heat, where you can cool off between two mouthfuls. It's the perfect place for young and old to have a good time. The only downside: beware of sand on your plates if you opt for the beach!
Do you want to immerse yourself in the heart of nature while doing a little exercise? Then go for the mountains! As well as having an idyllic setting surrounded by flora and fauna, you can go for a hike to reach your picnic spot. Then again, the forest can offer a little cool!
Finally, you're in town and want to switch off just a stone's throw from home? Have a picnic in the park! You can generally enjoy the facilities and amenities on offer, such as tables, bins or even toilets. In addition, there are often play areas for your children to have fun!