Our Mission
We aim to sustainably bring the power of sport to everyone, everywhere
We innovate to champion the athlete in everyone.
Whether a novice or an expert, we create for you. Whatever the barrier to participation, we innovate to overcome it. Everyone deserves the chance to take aim, hit the field or the slopes, climb, swim, ride or run farther than they did before.
High quality. Low prices.
Decathlon is focused on how we can give the most and charge the least—whether through reduced advertising and packaging or maximizing innovation and investing in our people. For 40 years, we have made sports accessible for hundreds of millions of people around the world. Come play with us.
Efficiency at every step.
By having brand design, innovation and customer service integrated, Decathlon realizes massive efficiencies. Efficiencies allows us to reduce waste and deliver high quality sporting goods efficiently and at a fair price.
Lifetime, not one time.
Our products are meant to encourage all people to play sports regardless of ability or status. The quality and price make it possible to afford all the items required to participate confidently. Our goal is to build a lifetime relationship with you. In fact, your happiness is our passion. Our strategy is to improve lives.
Your happiness is guaranteed.
At Decathlon, we stand behind everything we design and sell. If you have changed your mind, need another size or if the product doesn't meet your expectation, you can return it for a replacement or refund within 90 days of purchase -- with a few exceptions.
Are you paying for waste?
Over 75.2 million tons of trash are generated from packaging in the US every year. Decathlon only uses packaging when needed. This not only helps our planet, but produces savings for you.
We invest in people.
Sports are not possible without people. We pay our employees fair wages, provide excellent benefits and provide a clear path for growth. People matter the most. People are our most valuable resource.
We take responsibility for our actions.
Not only do we care about our customers' happiness, we care about the impact we are having on the rest of the world. We take our customers, our employees and society around us very seriously. We consciously choose our actions in order to produce a future that we believe is best for everyone on our planet.
40 years of service
Vitality and responsibility are our guiding core values. Bursting with energy, enthusiasm and ideas, our team is driven to bring the benefits of sport to everyone. That ethos is balanced by deep responsibility: for ourselves, one another, the safety of our customers and the future of the planet.

The result is a company committed to its customers, to its team and to the planet and focused on making the sports way of life available to everyone.
Fueled by innovation.
Our 20 Passion Brands each have a dedicated product development and design team made up of enthusiasts of a particular sport or groups of sports. Those teams are charged with research and development of innovative designs for all types of sportswear and sporting equipment, and responsible for dozens of patents every year.

With more than 70,000 happy team members from 80 different nationalities all fueled by a love of sport and a spirit of determination and innovation. Decathlon unites the world through sports.
Inspired by impact.
We're happiest when we consider the impact of bringing more sports to more people. We've stayed relentlessly focused on making the best products for each sport, for novices and experts alike.

Decathlon has become one of the world's largest sporting goods retailers with more than 1,600 stores located in 52 countries around the world. And growing!
Global Citizenship.
Beyond helping the world be better at sports, we're constantly assessing how we can be better citizens and make the world a better place. A culture of accountability and fair, safe working conditions. Improving energy efficiency and optimizing storage and transport. Eco-design and environmental labeling.

We're committed to fair play on the field and through all of our brands and retail formats. We believe in responsibility in economic and social terms, wherever the company is present. It's how we create value in the long term—for our staff and shareholders but also for our customers and partners and, ultimately, for the planet. Learn more about our sustainable development commitments.
Worldwide philanthropy.
Sport has given us so much. We want to give back. For more than a decade, The Decathlon Foundation has worked to level the playing field by improving access to education, training and employment. We empower employees passionate about sport-based service through projects and partnerships. Whether at the annual Foundation Day or an ongoing project, we partner local team members with NGOs and other not-for-profit organizations to aid under-resourced areas.

It may mean we help renovate or build new sport grounds. Or, we get the right equipment and materials to the right people. We can help train the teachers and coaches a community needs. And, we're thrilled some of the former beneficiaries are now part of the Decathlon family. This is how we live our values. Visit the Decathlon Foundation website.
Brands by Decathlon.
Each sport or group of sports has a Passion Brand, created and owned by Decathlon. Team members are athletes dedicated to their sport, their fellow athletes and to developing the best products for everyone to play sports. Today, 40 Passion Brand teams are charged with imagining the future of their sport.
Tested in the lab & the field.
Each Passion Brand is headquartered at the epicenter of that sport so teams can test products under real-world conditions, gather customer feedback and integrate it into product design and development. Work is further guided by our R&D center, SportsLab, where we're focused on interaction between the human body and our products while maximizing comfort, features and safety. Everything is tested, by us and our customers, in the field and in the lab.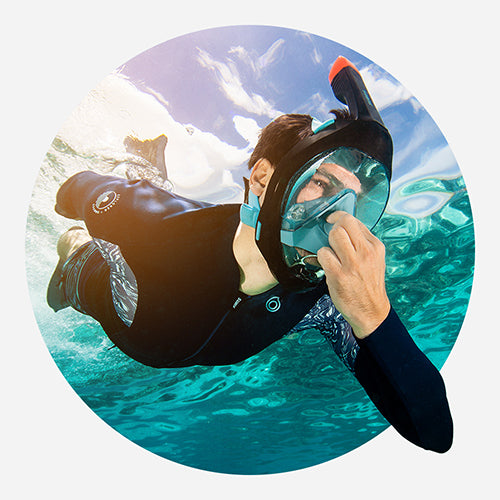 More Innovation, More Great Products, More People Playing.
Immense talent, energy and innovation goes into each Passion Brand. The result? 2800 new products created, every year. And, every year the Passion Brands come together for some healthy and fun competition at our Innovation Awards.

Attractive, technical, simple sports equipment and products. Always at the highest possible quality and always at the lowest possible prices to get the most people playing, from novice to expert.
This is our family.
Our team is made up of dynamic designers, product developers, engineers and researchers, all focused on producing the highest quality of sporting equipment.

Our family is made up of the Decathlon team and all the people who use and love our products. Your safety and enjoyment is our goal. Your feedback helps us innovate, create and improve. We're inspired by each and every one of you, everyday.