Whether you have access to a pool, lake, or bathtub, this guide encourages you to give your child a splash of self confidence and inspire their aquatic awakening! Encourage your little ones (yes, even babies) to develop a passion for aquatic fun that will last a lifetime.
Where There's Water, There's a Way!
Anywhere with water is the place to be. Inflatable kiddie pools, sprinklers and hoses, bathtubs, backyard pools, public pools, community centers, lakes, and rivers - it's all good!
Tip: If your child is scared of going into the water, focus instead on playing games near the water.
Safety First
Never leave a child alone in any amount of water. Stay within arm's reach. That said, children also need freedom to explore, even if that means getting their face a bit wet.
Tip: For newborns, wait until the belly button has healed. Check with your doctor before introducing your baby to a pool or lake.
Benefits of Water Play
○ Improved physical development, coordination, and body awareness.
○ Learning life skills. Challenges build confidence and promote a sense of self and safety.
○ Socialization: from family bonding to team spirit and making new friends in groups.
○ Improved mental development. Spark curiosity and discovery, let your little ones explore uncharted territory!
○ Learn new vocabulary like body parts and water action words.
○ Better sleep. Physical activity makes us feel happy and helps us relax.
○ Plus, swimming may have a beneficial effect on lung function and asthma symptoms.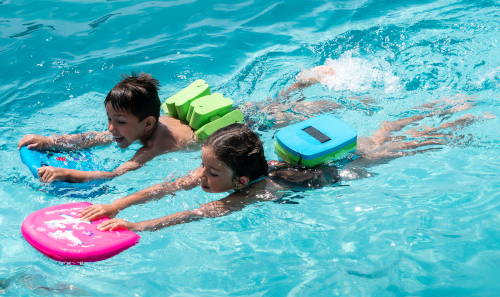 A Bigger Bathtub: the Pool
Dip your toes in together. Start with 10 minutes in the water, and slowly increase to 30 minutes. Follow your child's lead; if they want to do more, indulge them with fun games that make their time in the water even more enjoyable.
Tip: Encourage your child to reach for toys (sponges, rubber duckies, empty containers). Movements like reaching, kicking, splashing and floating with your support promote pre-swimming coordination.
Go a Little Deeper
Once your child is comfortable in water (and can follow your instructions), you may want to teach them to blow bubbles in the water. Start with a straw and slowly build up to humming a song with their mouth underwater (a fun guessing game).
Tip: First time in a pool? Your child will most likely get hungry, so be sure to bring a snack. Other considerations:
○ Water diapers
○ Swimwear: basic swim suit (don't forget the sunscreen!) or a warmer surfer combo with UV protection
○ When swimming in chlorine pools, be sure to bathe and rinse well before and after your sessions. Have your child drink fresh water before and after their swim.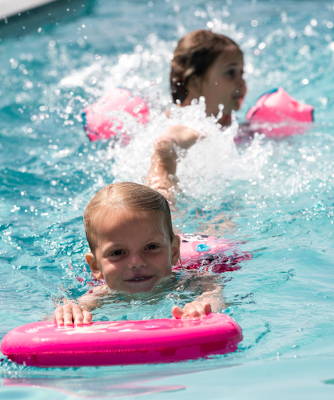 Growing Gills
If your child is already galloping around on a pool noodle, it's time to try these games:
-Bigger kids can use a slide on the edge of the pool (and your arms), to ease them into briefly submerging their face.
-Show your child how to stretch out like a starfish on its back. Gradually reduce your support, and then time how long they float. Count out loud together.
Tip: Personal flotation devices like vests and belts keep your child upright in the water. Flutter boards and noodles can help them to develop the swim position too.