Our 2 Person 2 Second Tent is ideal for an impromptu adventure
With all the jargon casually being tossed around in the mountain sports world these days (#peakbagging, #bikepacking #PCT #FKT #what?), it can be hard to make sense of some of the vocabulary. For example, it's typical for people to use the terms hiking and backpacking interchangeably, when they are actually two different activities. So what is the real difference between the two?
In simplest terms, hiking is a one-day excursion in which the participant returns to their campsite or home following their outing. Meanwhile, backpacking includes at least one overnight stay as part of their journey to reach the final destination. For example, while spending the weekend in Yosemite National Park, one might hike to Half Dome over the course of the day and return to their campsite in the valley for the night. Meanwhile, backpacking to Half Dome could entail a hike to Little Yosemite Valley four miles in, staying overnight, and then hiking to Half Dome the next day.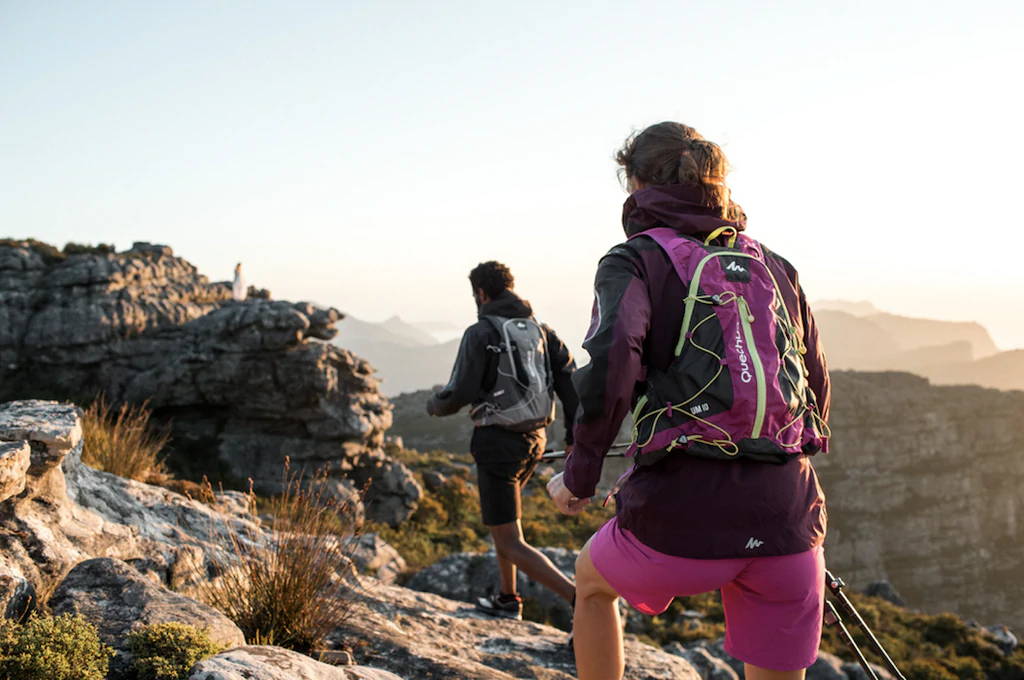 At Decathlon, this distinction between hiking and backpacking has led to the creation of separate brands. Our brand Quechua (KEH-CHOO-AH) caters to the needs of a hiker, and Forclaz (pronounced FOR-KLAH) creates products specific for the backpacker. Since a backpacking trip lasts anywhere from two days to two years, Forclaz's focus is to ensure the robustness and durability of each product so that its user can endure lengthy periods spent in hostile environments. Meanwhile, Quechua's main focus is on lightness and comfort to maximize enjoyment across the course of the day.

The easiest way to distinguish between hiking and backpacking at Decathlon is to compare the backpacks and shoes associated with both activities.
Hiking:
Hiking Backpacking Arpenaz - 30L: With its 30L carrying capacity, this is the perfect size to carry your day's worth of food and water, and extras like your rain jacket and hoodie.
Women's Hiking Mid-Rise Waterproof Boots: Waterproof coating and hardy grip make this a perfect boot for a 1-day excursion on easy trails.
Backpacking:
Backpacking Pack Forclaz - 70L: Reinforced foam straps, plentiful pockets, and a 70L capacity make packing and carrying one's sleeping bag, tent, sleeping pad, and cooking gear for 5 or more days an easier task.
Men's Backpacking Boot Trek 700: With its Vibram Sole for optimized control on rocky and wet ground, along with a top-of-line Outdry membrane to keep the boot dry, this boot can handle any rugged terrain.
Either way, whether you're hiking up Mount Tampalpais with a 30L pack or backpacking along the Pacific Crest Trail with our Trek 700 boots, the most important thing is to be outside, enjoying the incredible landscapes California has to offer.