Children tend to run everywhere and get into everything. Follow our tips for kids' hiking gear to make sure they stay dry and warm while exploring.
Breathable t-shirts
Wearing a breathable t-shirt is the best way to stay dry and warm, especially when you take a short break during your hike. The first layer of clothing is very important! A breathable first layer allows the skin to remain dry, even when you perspire. Breathable fabric is therefore preferable to a classic 100% cotton t-shirt, which stores moisture.
Tip for summer hiking: If you choose a t-shirt that covers the neck and shoulders, you won't have to worry about putting as much sunscreen on these areas.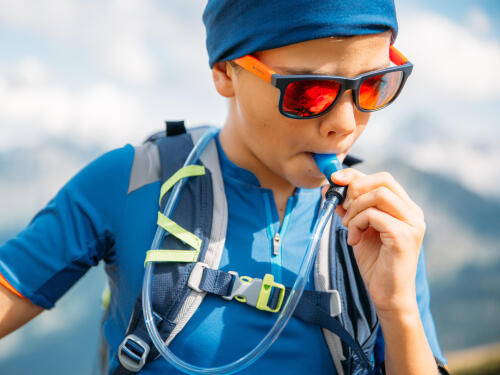 A backpack just for them
Children can't really anticipate effort levels. They'll put their fleece jacket on just before attacking an ascent, then stop to remove it a few meters later when they realize they're too hot.
We recommend letting kids carry their own bag. That way, they'll be able to put on or take off layers anytime, and drink water when they need it. Choose a bag designed for children — it will be better adapted to the length of their back which will make it more comfortable.
Note: Children should not carry more than 10% of their body weight (compared to 25% for adults).
Extras in their bag
During a hike, weather conditions can change quickly in any season. Having a warm layer on-hand to protect your child from the cold is essential; and so is a waterproof layer in case of rain. Opt for lightweight, compressible garments that can be carried effortlessly.
Today's hybrid garments are both warm and water-resistant, such as down jackets and softshells.
Plus, don't forget seasonal items: caps and sunglasses for summer; and hats and gloves for winter.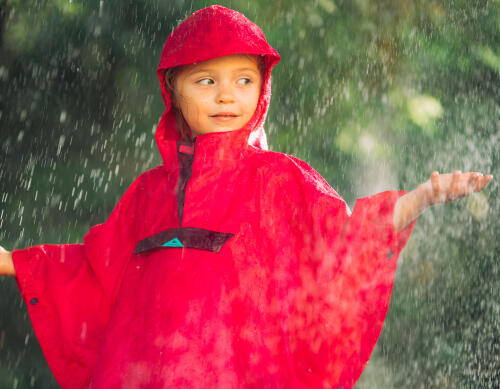 Smarty pants
To keep your child comfortable through temperature changes, try convertible pants. They convert into shorts in just 2 zip strokes! It's the easiest way to adapt to changing weather, and it'll save you from carrying a second pair of pants.
In winter, complete their outfit with warm tights and windproof, water-resistant softshell pants
Grip and cushioning
Shoes are the most important piece of equipment to ensure comfort and safety on the trails! We recommend choosing footwear designed specifically for hiking to guarantee optimal grip and cushioning, as well as support and protection from external elements such as rocks and stumps.