Black Friday product

New Deal product

Cyber Monday product

Clearance product

Deal product

Best Seller product

Ecodesign product

New product

Staff Pick product

In The News product

Innovation product

product
Black Friday product

New Deal product

Cyber Monday product

Clearance product

Deal product

Best Seller product

Ecodesign product

New product

Staff Pick product

In The News product

Innovation product

product
Itiwit Adult X500 Drop stitch High Pressure Adventure 2 Person Inflatable Kayak
Sale price:
$1,249.00
Regular price:
$2,099.00
The rigid kayak that fits in a trolley bag! Efficient, robust, and easy to inflate, the Strenfit 2-seater kayak takes you long distances all year round!
Free pickup
San Francisco, 735 Market St. Options
Select an available color and size to see options.
About this item:
Rigid and portable inflatable kayak using drop stitch technology
V-shape Hull for glide performance & maneuverability
10PSI, Inflate in 3 minutes!
Storage space using the rear hatch
Adjustable Footrest
Pump and Paddle Sold Separately
3 cleverly placed cargo areas to transport up to 460 lbs, you included:)
Great sensations! The V-shaped hull limits friction on the water.
Easy assembly/dismantling
Inflate in 6 minutes using a double-action hand pump to 15 PSI (1.03 bar)
2 very dense foam seats suitable for your full-day touring.
Adjust the footrests to your size in the cockpit area whenever you want.
The coating lets you use your spray deck so that you can paddle in all seasons
Reinforcements in the areas exposed to friction, leaving you free to paddle.
The kayak is waterproof. Simply dry it with a towel.
Product Lifestyle

Image Gallery
Image Gallery
Look for product information, frequently asked questions, opinions...
Question:
What does this package include? does it include everything? Kayak, paddles and pump?
Answer:
It only include the kayak. Pump and paddle are sold separately. You will need a high pressure SUP pump to inflate it.
Question:
For space reasons i can only have 1 kayak. How easy can the Itwit X500b 2 person be used as a single ? I noticed the sitbpositios are fixed Thanks
Answer:
Due to his length the 2 person will be a bit slower to turn but as stable as the 1 person if you use it alone.
Don't see the answer you're looking for?
Skip to reviews
Write a Review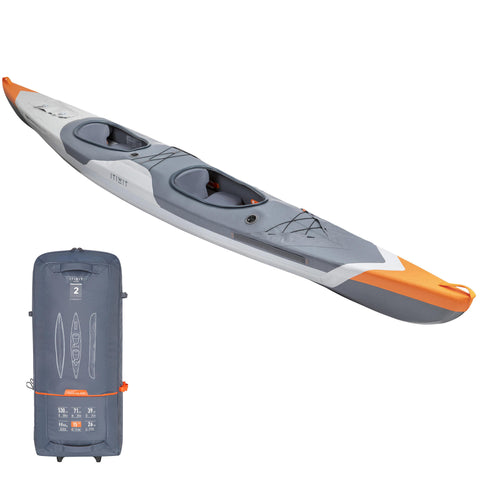 Filtered by reviews
Loading reviews…
Responsive kayak requiring good paddling technique which opens up speeds of 8 to 9 km/h for a sporty cruise, with better kayaking experience 9 to 10 km/h are possible. In the hiking bivouac formula it does the job (it is delicate when it comes to holding the heading, but as you get the hang of it it becomes more and more precise and this depends on the level of the kayakers). It should be added that my training as a kayaker is line racing, my usual partner at an intermediate level.
Inflatable kayak with high performance
Inflatable kayaks have become popular due to their ease of transport, and we recently purchased the 2-person Strenfit X500. Although it is bulky to carry, this is expected. The main advantage is how quick and easy it is to inflate and set up. In a matter of 15 minutes you have it ready to sail, including the installation of seats and footrests. The kayak offers a good balance between performance and portability. It can maintain a reasonable speed and is stable, although the primary stability may feel a little shaky for beginners. It offers plenty of storage space, which is ideal for carrying extra gear. However, tracking is not optimal in strong currents due to the V-shape of the hull. If you plan to navigate rivers or areas with significant currents, you should be prepared to exert a little more effort to stay on course. Kayak quality may vary; We had to return the first one because it was crooked, causing it to continually lean to the right. Fortunately, Decathlon provided us with a hassle-free replacement. It is important to check the quality of the kayak when you receive it to avoid unpleasant surprises like this. Also, the backrest of the front seat is not well supported and sometimes tips backwards. That said, the kayak appears to be very well built with quality materials which inspires confidence for its longevity. In short, the Strenfit X500 2p is a good option for those looking for a balance between portability and performance on the water. Although it has challenges, such as tracking in strong currents and some construction issues, it is still a solid option. If you can overcome these obstacles, you will find it a fun way to explore the water.
10/22/2023
verified purchase
regarding storage it's a hassle, the carrying bag is not big enough, it would take more play between the container and the contents
The kayak is quite fast, high load capacity, but with a large load and light wind, very poor controllability, you have to correct the course all the time, you can forget about smooth paddling, this is a serious disadvantage that does not allow you to enjoy using this equipment.
The only one in its class..
It is probably the only kayak on the market made in dropstitch technology, which makes it unrivaled from the start. It has the advantages of its rigid counterparts and at the same time the practicality of inflatable kayaks. Below is some information that you will not find anywhere else and I was looking for it myself when buying. In total, the buyer's decalogue came out ... 1. Kayak backpacks, including the universal one for sup and kayaks ITIWIT with a height of 95cm, will not accommodate this kayak. The manufacturer knew what he was doing by giving a huge bag on wheels and I recommend staying with it. 2.... because there is no problem with the bag. It can be rolled up, packed in a plastic bag or a waterproof backpack and stored in the luggage hold. There will still be a lot of space, e.g. for a kayak pump, a bilge pump or an additional smaller backpack. 3. In the case of the 1-seater version, the X500 was tipped, so the V2 model with a wider bottom was created. The 2-person model did not receive the second version because it is very stable. Due to the shape of the bottom in the letter V, it leans out, but only to a certain point. Once we get used to it, we will trust it much more. 4. Due to the fact that it is huge (5m 20cm) it is a bit sluggish on the water. While speeding it up is not a problem, maneuvering it requires a bit of effort. 5. The seats can be hard, so heavier people may experience discomfort in the form of numb feet. You can deal with it by buying a self-adhesive mat made of foamed rubber about 2 cm on auction portals. 6. If you are going to swim alone, I advise you to spread the kayak right next to the water, it's a really big block. 7. All neoprene aprons and covers in the area of 53cm x 82-92cm are suitable for the kayak. 9. I recommend buying leashes for oars so you don't have to look for them in the middle of the lake or, even worse, the sea. 10. The kayak on the bow has holes in which we can attach a dedicated ITIWIT backpack.
Absolutely new to kayaking, but a fan of other water sports, I am won over by this model: fast, stable, a little sensitive to side winds but you end up anticipating things, easy to assemble and disassemble. The only downside is the front seat back which tends to come off. I would gladly wait for an answer to this concern. For the rest, a lot of pleasure experienced in sailing as a duo (carbon paddles)
6/7/2023
verified purchase
First of all: I have driven many boats and therefore have a little experience when it comes to boats and the quality to be expected. The boat has a very nice design and is well thought out in itself. Personally I like it a lot and it's one of my favorite boats, BUT... - My boat is crooked at the bow and stern (request has already been made to Decathlon customer service, awaiting an answer) - The boat does not go straight (lies possibly on the crooked parts) - Unfortunately there is no official possibility for a rudder system (I'm in the process of developing something for myself) - The middle and the front drop stitch element unfortunately have dents (most likely threads have come loose) - That's it Now the most important point and unfortunately also the most negative: The seats are so uncomfortable that my wife and I have back pain after paddling for 2 hours. About 5 hours after the tour, my back still hurts when I touch it. In my opinion, this is due to the non-ergonomic shape of the seat and the hardness of the material.
well suited for experienced kayakers
Accustomed to rigid kayaks, this first inflatable experience is successful, whether on an Ardèche marathon where the boat did the job well, or on the sea in calm and not very rough conditions, the boat behaves well, it passes the waves well without hitting as much as a rigid. In downwind seas, you will need to find a removable daggerboard system. The skirts of classic kayaks are not all suitable for these flexible coamings, but the slalom models may be suitable. On the inflation/deflation side and storage in the carrying bag, it's like a tent... (there would always be a little bit of space). We often give up storing the seats in them. The imagined footrest system is a great success. On the seat side, it remains to imagine additional side wedging to allow rolling, and probably ergonomics to be improved for long navigations. An inflatable that provides a good weight gain compared to a rigid polyethylene. Carrying on the gallery while being inflated is possible for short journeys (propped against the roof box, or to be tested with cradles).
5/13/2023
verified purchase
Does not include pump, skirts, paddles or glue for the repair kit. Wonderful product very functional. Easy to mount. First outing, 12km of kayaking in a calm sea, as a couple, without looking back, happiness. The risk of reversing remains real for beginners. The cargo area is more spacious than I would have thought. I was wrong for the pump, taking the 10PSI, it works very well, but it is recommended 15PSI.
3/30/2023
verified purchase
Amazing performance for an inflatable kayak
This kayak is my first inflatable kayak and I was a bit skeptical about purchasing it, being an experienced kayaker using a double fiberglass kayak for over 20 years. After a season of use, I am completely satisfied with its maneuverability and its glide (capable of maintaining 5 km/h over a long distance). It is very stable even in good winds. It is easy to mount. The design is awesome. For storage, you have to follow the instructions, the bag is pretty tight. The seats are comfortable but we add a small cushion to the backrest. It's a bit difficult to properly attach the sprayskirt to its coaming. Warning: this product is not sold with a pump ... and we had not read this discreet notice during our online purchase! Overall we are very happy with this purchase. It is still a less efficient kayak than a rigid one, but it can be transported in the trunk of our car!
The kayak is fabulous, one of the few inflatable kayaks that actually go. But it was necessary to select a third piece. The first two had a manufacturing defect - an uneven bottom. They were in a constant tilt and going into a turn. Do not hesitate to inflate the kayak in the shop and compare the uniformity of the bottom halves. The included repair kit contains only patches, not glue.
11/3/2022
verified purchase
A very stable Kayak. Ideal for leisurely boating quick and easy to set up. Time needed to look into how best to fold it up before it's blown up the first time it's a really good idea to hire one first just to make sure you get the hang of folding it correctly to avoid changing the folding pattern on your new boat.
11/3/2022
verified purchase
I would choose again and again
10/29/2022
verified purchase
Super in the water, good in transport! Top product!
10/5/2022
verified purchase
I have been sea kayaking for several years and have paddled in a few places around Europe. It's a shame that the boat only reaches the length of a shorter single sea kayak. Larger trips are prevented by the fact that 2 people do not load a bivouac, drinking water, clothes, food for several days. It's a pity that the ship is not at least 50-70 cm longer, otherwise it is very good. I would just like a tilting skag for directional stability in crosswinds.
https://sf-dkt-reviews-api-prod-y7jflx25za-uc.a.run.app
Additional

Product Information
Main fabric: 100.0% Polyvinyl Chloride ; Inside shell - Main fabric: 100.0% Polyester ; Carry bag: 100.0% Polyester ; Foam part: 75.0% Polyethylene, 25.0% Foamed EVA
What are the dimensions and weight?
"When the kayak is inflated:> length: 17'4"> width: 27.6"When stored in its bag: Height: 39.4"> width: 17.7"> thickness: 15"> full weight: 53 lbs (kayak itself 49 lbs)Hatch storage: 24"
An innovation, and a patent pending!
A high-performance 2-seater inflatable kayak that you can take everywhere with your trolley bag, in short: freedom! Based on the X500 1-seater kayak, we decided to develop a 2-seater kayak. 5 prototypes were necessary. The main challenge was: offering rigidity and performance with a 2-seater inflatable kayak. Therefore, its was the unique cut and assembly of the materials used that we decided to patent.
Why a rigid inflatable kayak?
"We listened to kayakers: "I would like to share experiences as a pair in a kayak" "I am looking for a 2-person inflatable kayak with the same performance as a rigid kayak."
Why the name "kayak x500 dropstitch"?
"The "dropstitch" is a material. 2 layers of PVC are connected by thousands of polyester strands. When inflated to high pressure, these threads tighten and create a rigid volume, which prevents the kayak from loosing its shape.Which is what makes our inflatable kayak extremely rigid but easy to stow in a backpack once deflated."
How to inflate and mount the kayak?
1. Inflate the main chamber (floor), then the intermediate chambers (walls), followed by the small chambers (arches). All the volumes are inflated to 15 PSI max (1.03 bar).2. You can insert the footrests on the flexible guides, push them inside the kayak, and adjust to your leg length with the buckle.3. Position the seats by fitting them onto the shims provided. 4. Position the backrests under the coaming.We recommend the HP Itiwit twin-action hand pump (8387655), not supplied.
How to disassemble and deflate the kayak?
"You'll see it's quite simple!1. Make sure the folding surface is clean.2. Remove the seats.3. Remove the footrests 4. Deflate the kayak by removing the cap and pressing the valve. (Leave the valve in the open position for air to escape)5. Tuck in the hatch and start folding lengthwise."
How to fold it up to put it in the bag?
"1. We recommend placing the canvas of the bridge inside the fold. 2. Fold the keel over its entire length. This fold ensures that the width of the kayak is the same as that of the bag.3. To fold your kayak, start with the front tip, then fold at the first dashes. Repeat the operation 4 times such that the kayak folds like a snail 4. Strap up the kayak - strapping it well will make it easier to fit in the bag.
What if the kayak is pierced?
"It would take something sharp to make that happen. If so, the kayak is composed of 6 independent "air chambers." 1 or 2 punctures? The kayak floats enough to make it back to the shore safely. To preserve the life expectancy of your kayak, we advise you to avoid contact with oyster shells and sharp reefs."
The team offers their tips for your comfort ...
"Olivier takes care of the stock at Itiwit. Like the whole team, he is passionate about kayaking. His advice: "To make the most of it, really take the time to sit in the middle to balance yourself, to adjust your footrests. Once you are comfortable, off you go."Nico is a product engineer. His thing is to always leave with dry clothes in a small waterproof bag. "You can place it in the front of the kayak for easy access."
Our kayak is tested and approved by our internal and external ambassadors.Some examples? Olivier and Diego have traveled through the Dordogne with this kayak: 155 miles in 2 days.Find their stories and our videos on the Itiwit website.
Dry, deflate, fold up. Store your kayak in its bag in a cool, dry place.
Superior quality. Unbeatable prices.
For 40 years, Decathlon has delivered the best value in the retail sports industry by offering high-quality, sustainable and cost-effective products.
Decathlon makes the difference
Research and development

delivers high-quality cost-effective products

State-of-the-art production processes

minimize manufacturing costs

Optimized supply chain

reduces retail prices

Minimal retail footprint

lowers overhead and indirect costs
Itiwit Adult X500 Drop stitch High Pressure Adventure 2 Person Inflatable Kayak
Please enter a valid city with state or zipcode. Example: San Francisco, CA or 94101
Order online for
Heavy products return policy
If you return a product you will receive a refund for the purchase price plus any applicable sales taxes, less any non-refundable charges.
Decathlon will cover all shipping costs associated with your return except for items excluded from our return policy such as bikes, basketball hoops, snowboards, surfboards, tents, and other larger / heavier items.
Return costs for heavy products:
| Weight Thresholds | Shipping within California | Shipping outside of California |
| --- | --- | --- |
| > 9 lbs | $20.00 | $25.00 |
| > 30 lbs | $50.00 | $65.00 |
| > 100 lbs | $100.00 | $125.00 |
| > 200 lbs | $200.00 | $230.00 |
If you return a product at any of our store locations, we will gladly help you find the best alternative product or refund you on the spot.